Are you looking for a home inspector you can trust in Elk River, MN? Our home inspector case studies provide real life example of the deficiencies that can be found when you purchase a new home.  Each of our inspections provides a detailed report of the issues we found to help home buyers like you make better decisions when they purchase a new home. Our deficiency reports will give you the tools you need to  negotiate with your sellers and give you a list of items to be worked on after you close.
Home Details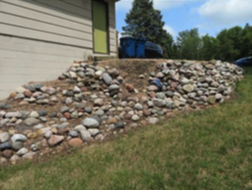 We inspected this home in Elk River, MN. Our focus was to help the new homeowner gain an understanding of the overall condition of the property and assess their home before final purchase.
Home Inspection Checklist
For each of our home inspections, we inspect the following:
Roof
Exterior Components and foundation
Electrical
HVAC
Interior windows, doors, smoke alarms
Insulation and ventilation
Plumbing
Overview of deficiencies
We provide a detailed report for every inspection.  Each report provides an image of the deficiency, an explanation, potential consequences and recommended action.  Here are a few of the deficiencies we found for this home.
Retaining wall construction or configuration appears to be non-conforming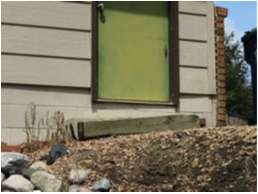 The retaining wall is observed to be configured or constructed in a manner that does not appear meet current standards or can not be verified to meet current standards. (Stones appear to have settled and/or eroded down the hill).
IMPACT/CONSEQUENCES: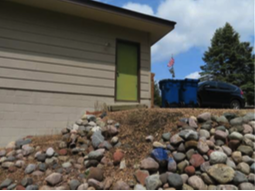 The future ability of the retaining wall to maintain its integrity in restraining the weight of the backfill soils may be affected. Projecting whether failure will occur, or the time to failure, is not possible; this is often dependent on weather-related factors such as precipitation, frost, etc., soil composition, and the condition of components of the retaining wall that may not be visible at the time of the inspection.
RECOMMENDED ACTION
Review | Repair | Consult Specialist
Masonry chimney displays deterioration or damage (cracks observed)
Deterioration or damage of the masonry chimney is observed such as loose brick, cracked brick, spalled brick, cracked block, spalled block, loose or damaged clean-outs door, or deteriorated mortar, .
IMPACT: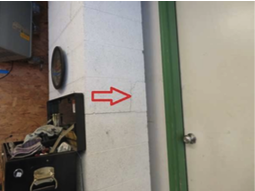 Brick or block masonry serves to support and enclose the chimney flue. A masonry chimney that is deteriorated will begin to cause issues for any home. Further and ongoing deterioration may result in costly repairs, chimney failure, and in some circumstances can be a safety concern. Repair and more extensive evaluation by a chimney Specialist is recommended.
Recommended Action
Potential Safety Concern | Repair as Required | Recommend Evaluation and Course of Action Determined by Specialist
Electrical outlet installed with ground connection not found (open ground)
An independent testing of the outlet indicated the outlets ground connection is not bonded (connected) to the home's electrical grounding system. This may be a loose or disconnected wire or this sometimes occurs when two prong style outlets are changed to three prong style outlets without adding a grounding connection.
IMPACT: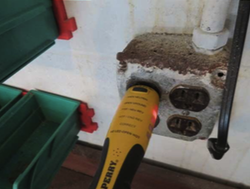 Proper grounding is required to assure breakers operate as intended should short circuit situations occur, as well as provide an additional degree of protection for personal safety and protection of attached devices. Where 3 prong receptacles have been installed with no grounding, the outlet should be labeled "no protection for equipment". This condition should be investigated and repaired immediately, to assure safe operation of connected devices provided with grounding provision. Recommend upgrading ungrounded electrical circuits to bring them up to current building and safety standards.
Recommended Action
Safety Concern | Consult Specialist | Repair
Home Inspection Results
Our goal is to help you find peace of mind while investing in a new home.  Similar to this inspection in Elk River, MN, we will provide a detailed report outlining each deficiency and your recommended course of action. We will highlight both safety concerns and others are minor repairs that you will want to work on after move-in.
If you are ready to schedule an inspection to gain peace of mind as you purchase your new home, then we're ready to help.  You can call us or schedule your inspection with our online form.