Are you ready to schedule a home inspection in Elk River, MN? Our home inspection case studies offer insights into a real life example of the issues  that can be found when you purchase a new home.  We provide a detailed report of the issues we found at each home inspection to help home buyers like you make better decisions during the purchase process.  Our reports will give you the tools you need to negotiate with your sellers and give you a list of items to be worked on after you close.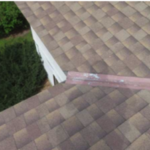 Home Details
We recently inspected this home in Elk River, MN. Our goal was to help our client gain an understanding of the overall condition of the property and assess their home before final purchase.
Home Inspection Checklist
For each of our home inspections, we inspect the following:
Roof
Exterior Components and foundation
Electrical
HVAC
Interior windows, doors, smoke alarms
Insulation and ventilation
Plumbing
Overview of deficiencies
Each of our inspection reports provides an image of each deficiency, an
Exterior wood trim requires protective finish and/or caulking
The protective finish and/or caulk at the exterior trim (door and window sashes, vehicle door, frames, jambs, trim/wall cover intersections, wall trim, chimney/wall intersections, Chimney trim, thresholds, sills, and/or wall trims) is deteriorated and in need of maintenance. Caulking and glazing may also be required to restore the door and window components to an acceptable condition.
Impact Consequences
Applying a protective finish and caulk to the wood elements of exterior is an ongoing maintenance activity to prevent damage to wood that can occur when exposed to weather and sun. Many professionals claim that applying oil based primers prior to applying the finish coat (latex paint) may provide better protection for horizontal wood elements and wood components close to grade. Failure to properly maintain exterior finishes will result in deterioration of the trims and wood elements, and left uncorrected, may result in water infiltration and damage to the wall structure.
RECOMMENDED ACITON: Recommended Maintenance
Window units require maintenance (wood windows)

The protective finish (paint, varnish, etc.) and/or caulk on an exterior window trims, sash, and frames is observed to be deteriorated or missing. Additionally, glazing putty at the junction of the glass and sash components may require maintenance.

Impact/Consequence
Maintaining the protective finish and caulk of exterior window sashes, frames, and trim is a maintenance activity to prevent damage due to the effects of the sun and weather. Wood windows requires periodic painting to protect against rot; window sills and lower portions of sashes and frames are particularly susceptible to damage due to rot. Failure to properly maintain exterior window components will result in deterioration of the windows, and may result in water damage to the home.
RECOMMENDED ACTION: Maintenance | Repair
Hardboard/Masonite/Fiber Cement siding is damaged or deteriorated
Damage or deterioration in the form of cracks, splits, rot, pest damage, weather, moisture damage, or deterioration are observed to exterior hardboard/fiber cement siding.

Impact/Consequences:
If the damage results in exposing underlying materials protected by the siding, water penetration is a possible consequence.
RECOMMENDED ACTION: Repair | Replace | Consult Specialist
Home Inspection Results
Our goal is to help you find peace of mind during the home buying process. Similar to this inspection in Elk River, MN, we will provide a detailed deficiency report outlining each issue and your recommended course of action. We will highlight safety concerns and others are minor repairs that you will want to work on after move-in.
If you are ready to schedule an inspection to gain peace of mind as you purchase your new home, then we're ready to help. You can call us or schedule your inspection with our online form.